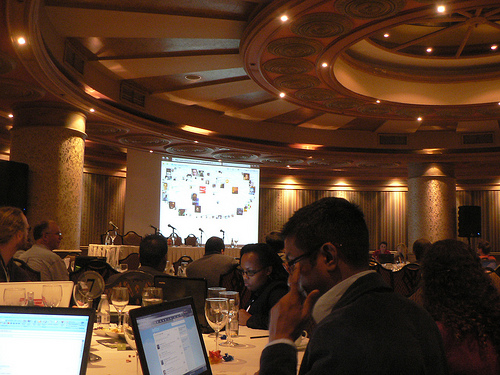 (Photo by Marc_Smith)
The following is a guest blog article by Kari Rippetoe of Tuvel Communications. If you are interested in guest blogging for Sound n' Sight, please read my guest blogging guidelines . And if you have any thoughts, please comment. Kari and I both would love to hear what you have to say!
If you manage or have ever managed social media outposts for an event (such as a conference), then you know that it's all about building and engaging a community – which includes attendees, exhibitors and speakers – throughout the show cycle (pre-event, during and post-event) and requires you to wear multiple hats (i.e. customer service specialist, moderator/facilitator, promoter, etc).
As someone who has managed social media for large conferences, I have learned a lot – and I'm still learning (and having fun with it, too!). But, I have gathered enough knowledge from my experience to put together some tips and tools you may find helpful in managing event social media outposts.
This is part one of two, where I'm sharing some of my tips for managing event social media outposts. In part two, I'll share some of the tools in my toolbelt – so stay tuned!
1 -Don't just broadcast.
This is social media 101 – broadcasting all day, every day is not going to get you anywhere. Even if you think everything you're posting holds value, think again – your followers want more than that. Let them know there's a real person there and what they say matters by listening, responding and conversing.
2 - Monitor, monitor, monitor.
There are so many free tools out there for monitoring keywords related to your brand and event (I'll go through some of those in part 2).
You must utilize these in order to effectively manage social media outposts. Don't just monitor your brand or event name, either – conduct research to determine the keywords your attendees are using in relation to your event.
3 - Help people find what they need (before they know they need it).
Not every issue and question attendees have will be directed right at you. They might wonder aloud over Twitter when they'll receive their pass in the mail or even if there will be any after-show meetups and tweetups.
This is where monitoring becomes so important, because it helps you to find and resolve questions and issues people have before they become problems. Plus, think of how pleasantly surprised someone will be to get a timely answer to their question from you – even though they didn't ask you directly.
4 - Respond to questions and issues in a timely fashion.
Social media outposts (especially Twitter) have become very popular for getting quick resolutions to questions and issues.
If someone asks a question via Twitter or Facebook (or some other means – like a comment on your blog), it's important to answer as quickly as reasonably possible. Sure, you're not going to be online 24/7, but don't let these questions hang for more than 24 hours.
5 - Help people find and engage with each other.
People go to events like conferences and summits for lots of reasons – and networking is one of the bigger ones. What better way to use social media than to help attendees connect with each other before, during and after the event?
Make individual introductions where you deem them appropriate, or host a pre-show Twitter chat to help people mingle with each other. It will help to foster face-to-face meetings and relationships that last well after everyone has traveled back home.
6 - Be "Twifficient" (make good use of your time on Twitter).
Managing Twitter during an event (especially a large conference) can be insane, and the last thing you want is for the quality of event tweets and attendee engagement to suffer because you're busy tweeting minute-by-minute session reminders. This is where tweet scheduling comes in handy, and I recommend reading Jenise's guest post on it at Liz King's blog here.
7 - Watch trends.
What's hot with your attendees right now – the launch of new gadgets or software? A controversial announcement? An industry luminary speaking at your event? Watch the trends that develop around your news items and measure reaction in terms of number of mentions and overall sentiment to gain an understanding of what matters to your attendees.
8 - Know your audience to determine your "voice".
What I said in my previous point will help you with this, but you also need to understand your attendees well enough to determine the tone of your social media "voice." The people who attend a conference for financial executives will be completely different from those who attend a digital marketing conference – so voice your posts appropriately.
9 - Be transparent.
I think we can all learn a lot about transparency from the
BP fiasco
. Be honest and transparent with your attendees if something goes wrong, and they'll react a heckuva lot better than if you try to cover things up with slick spin and manufactured messaging.
The other part of this is to be transparent about who you are. Something in the bio that says "Tweets by", signing off with your first name on tweets, or just being up front when someone asks who you are lets people know there's an actual, real live person behind the logo.
10 - F2F (face to face) means a lot.
As the social media spokesperson, it would mean so much to actually be at the event and meet face to face the people you've been talking to online. Go to event tweetups (and organize your own), live-tweet sessions, take pictures from the show floor, or even set up a "Social Media Lounge" where attendees can sit down, converse with each other (and you) and blog/tweet their hearts out.
Have you managed social media for an event? What tips would you offer?

Kari Rippetoe is Social Media & Community Outreach Manager at Tuvel Communications, a Washington DC area-based digital marketing and communications firm specializing in social media and outreach campaigns for associations, events, non-profits and technology companies. She has managed social media and outreach campaigns for clients like the National Association of Broadcasters (NAB Show) and 1105 Government Information Group (FOSE and GovSec/U.S. Law Conference & Expo). Follow Kari on Twitter @KariRippetoe, as well as Tuvel Communications @TuvelComms
If you enjoyed this post, please consider subscribing to the RSS feed for Sound n' Sight.